Marriage is a long-term kind of game. And couples that last haven't made it out of luck – they're willing to try new things to keep their relationship fresh. If you're looking for some inspiration, here are a few easy, yet sexy ways to add some spice into your love life.
1 . INVEST IN FOREPLAY.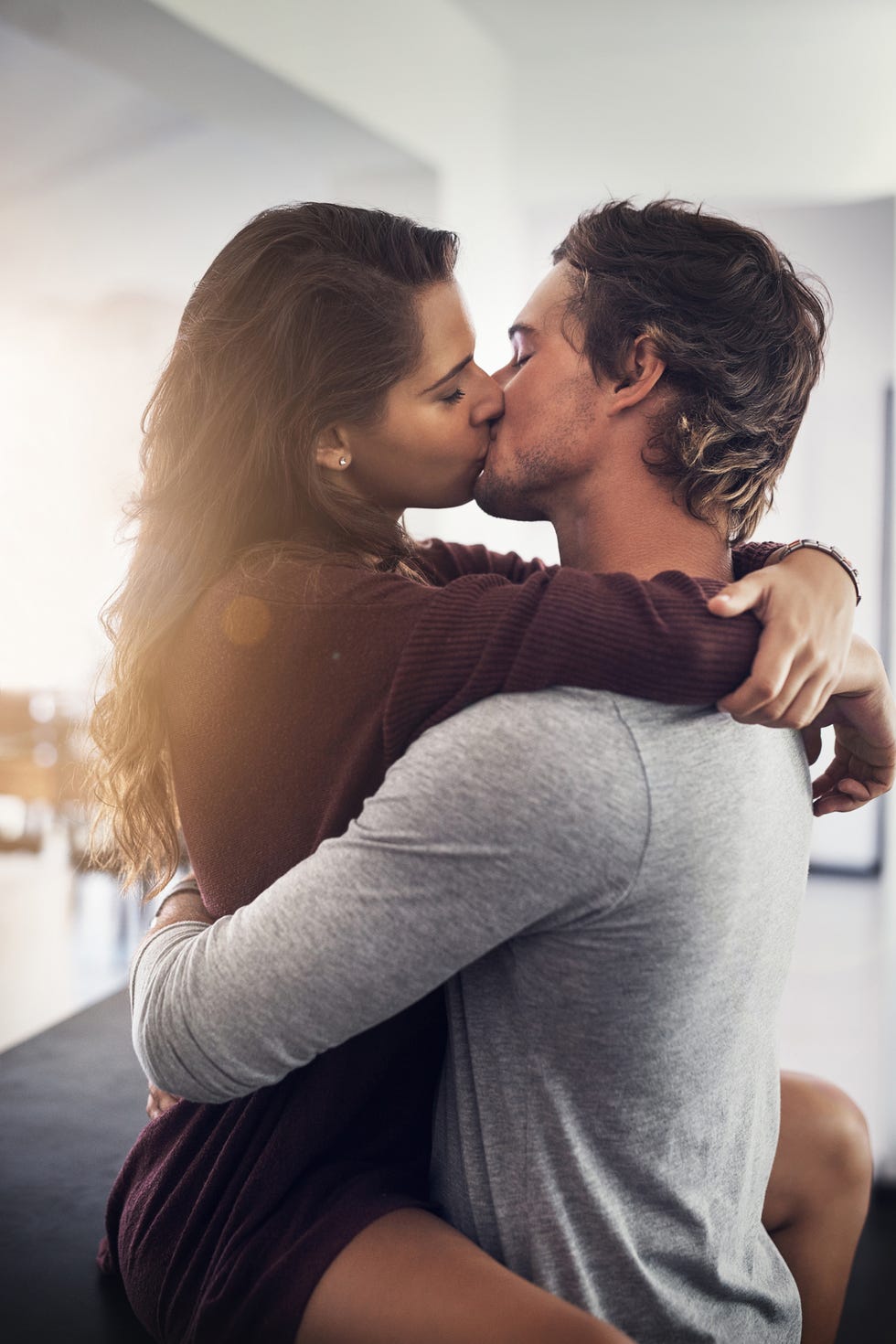 If you find yourself constantly rushing into being intimate – try slowing things down. "Spend time on foreplay. Don't go past second base and you'll find yourself wanting more," says Ian Kerner, Ph.D., author of Sex Recharge.
2. COOK TOGETHER.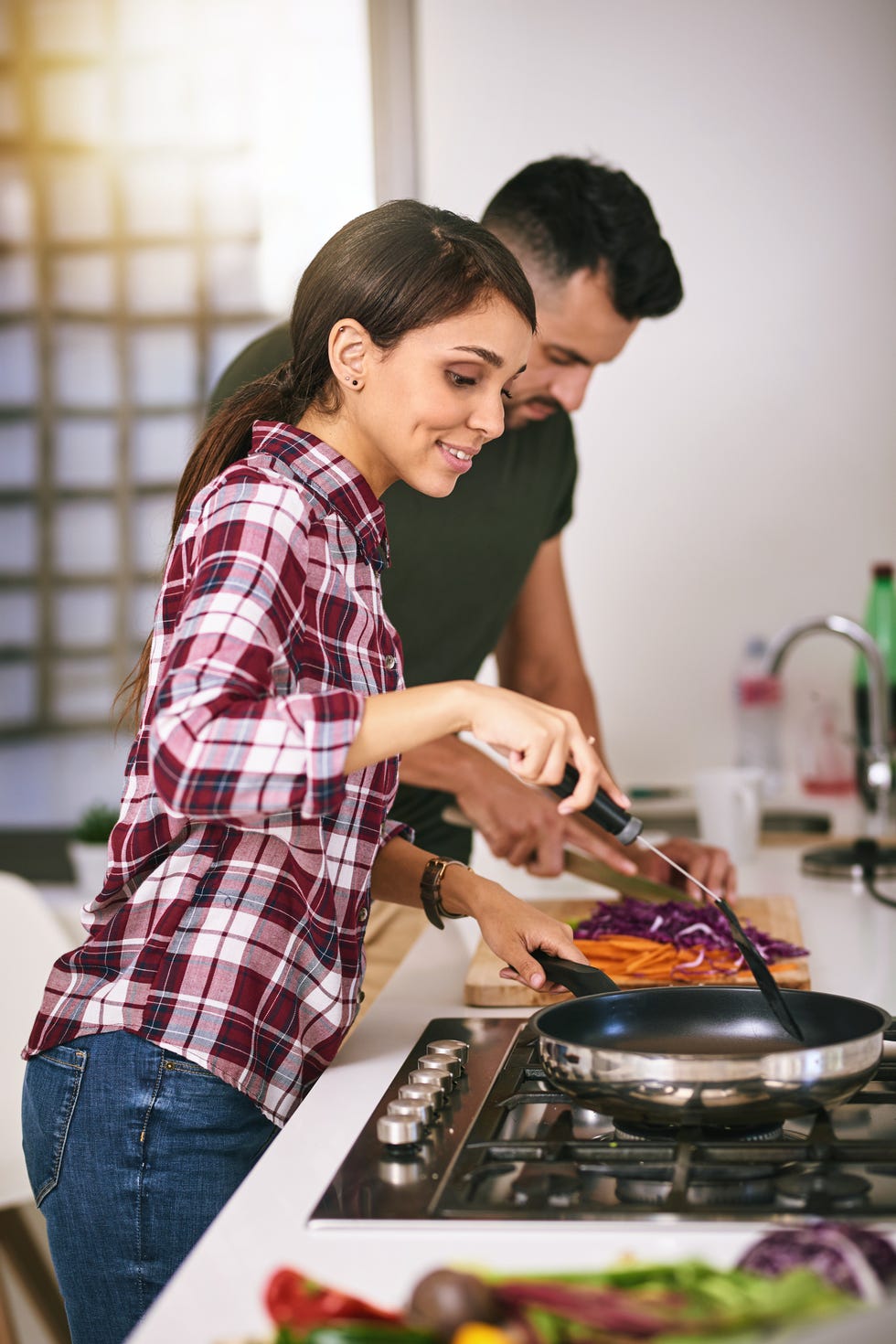 It doesn't have to be a five course meal. Grab fresh vegetables and start sautéeing or get your hands dirty with some pizza dough. As long as you're spending time together, that's all that matters.
3. SEND FLIRTY MESSAGES.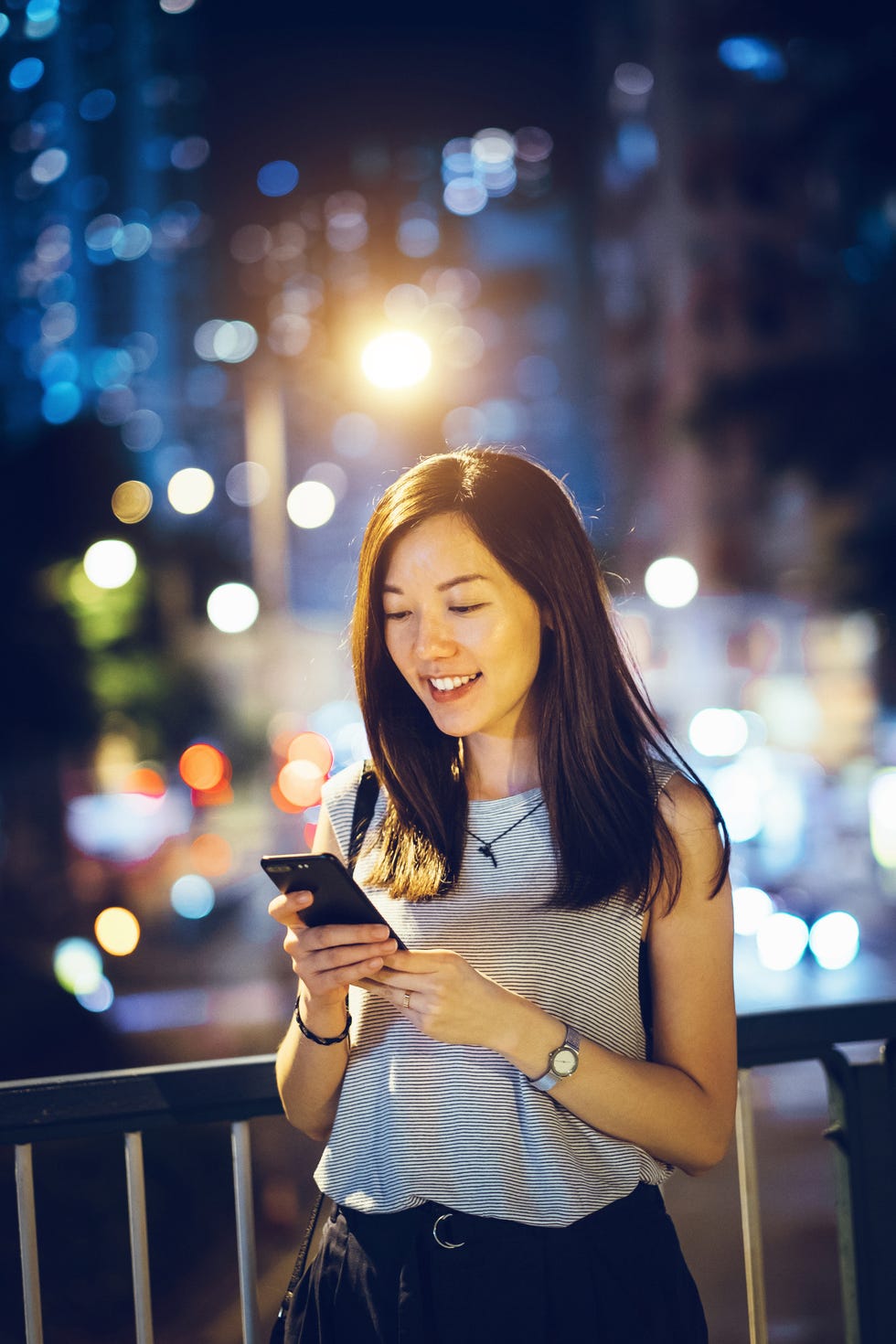 Something a risqué can go a long way. "Technology is a great way to stay connected and build anticipation," Kerner says. A few not-so-subtle hints regarding your bedroom plans for when the kids fall asleep will have him looking forward to spending time with you – and vice versa!
4. HIBERNATE FOR A DAY.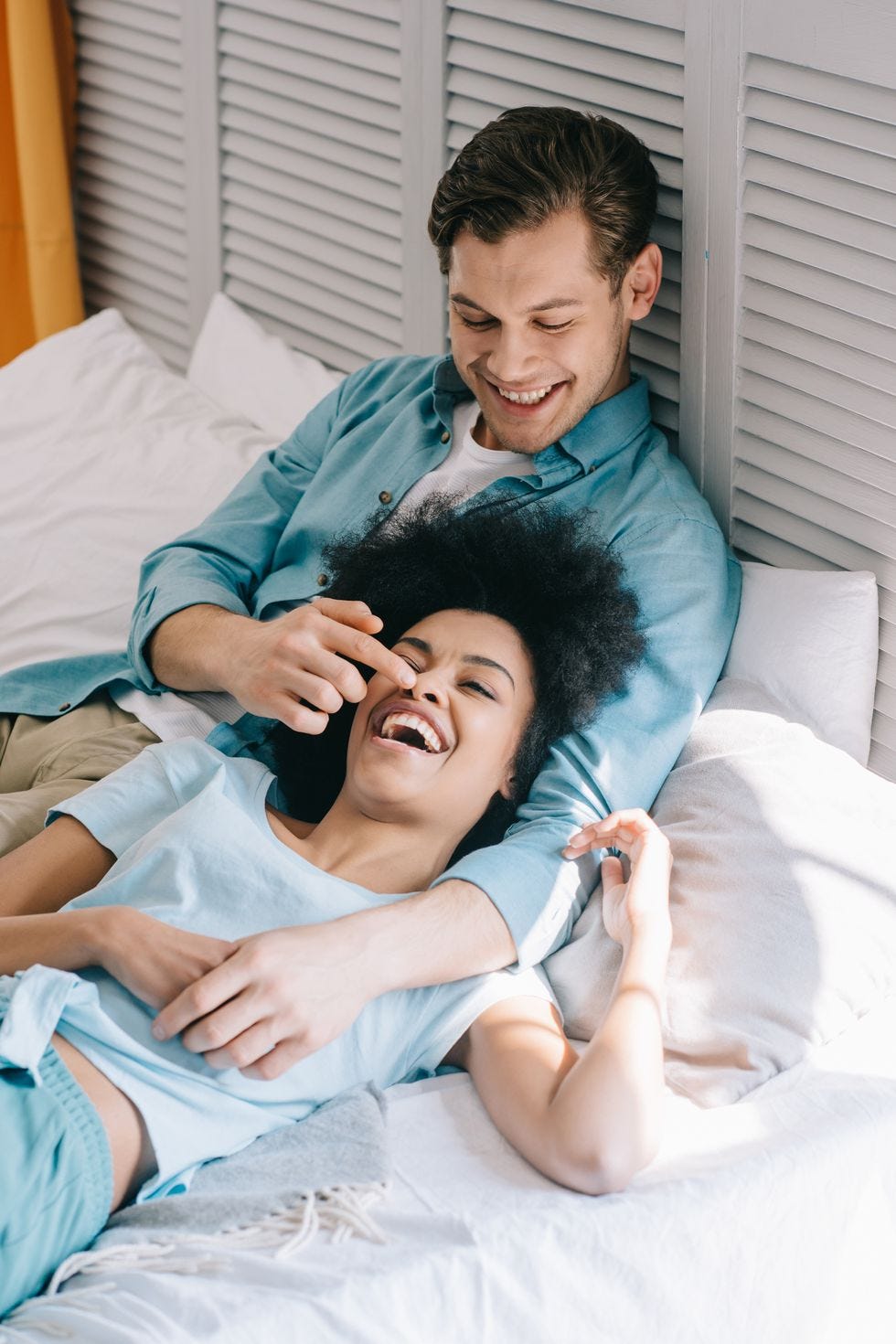 When you can feel in your bones that the two of you need some uninterrupted, quality time together, take a day off of work. Spend it in bed goofing around or getting intimate. Just whatever will bring you two closer.
5. SAY THANK YOU.
Everyone needs words of encouragement – including your partner. But it's so easy to let things go unsaid. Lisa L. Payne, author of What If They Knew: Secrets of an Impressive Woman recommends making a point to call out something you appreciate or noticed in your partner every single day.
6. DISCONNECT FROM TECHNOLOGY.
Don't bring your devices into the bedroom tonight. Leave laptops, cellphones, and headphones somewhere far from reach so the only thing between you and your partner is the sheets.
7. BE THE BEST FRIEND.
It's hard not to be in spouse mode sometimes, talking about the kids, work schedules, and upcoming bills. But you'll revert right back into best friend territory when you go out and do something fun (and silly!), like taking a trip to the arcade or spontaneously going to a baseball game.
8. GO ON A DOUBLE DATE.
Double dates are a great excuse to get dressed up. "Sometimes couples in long-term relationships stop trying to look good for each other," Kerner says. "But when you're going out with friends, you tend to get a little more dressed up. And if you're looking better, you'll be more primed for sex."
10. GET AWAY TOGETHER.
Escape for awhile – just the two of you. Check into a house by the beach or maybe just a hotel down the street. You won't believe what a change of scenery can do.
11. WORK OUT TOGETHER.
Just because you love spinning and he likes weight-lifting doesn't mean you're doomed. Hit up the gym at the same time and then split up. "[Working out] at the same time ensures both people are held accountable. It won't take away from other 'together time' either, like it would if each partner worked out separately," Dr. Jane Greer New York-based relationship expert and author of What About Me? Stop Selfishness From Ruining Your Relationship says.
12. SET A SEX DATE.
It's okay that both of you are busy people. Make your agenda-based lifestyles work for you and start setting sex dates. Actually write them down using a code between you two and there'll be a sexy reminder waiting for you during your mid-day meeting!
13. SWITCH BEDROOM POSITIONS.
Now that you've got the hang of it, think outside of the box when it comes to sex. "Couples often stick with what works," Kerner says."Trying a new position creates novelty and helps you discover what turns you on."
14. CELEBRATE THE LITTLE THINGS.
If you know your partner had a big presentation at work, have something ready for them when they get home to honor the accomplishment. Even just a little bubbly will make them feel special.
15. TALK ABOUT EACH OTHER'S STRENGTHS.
Maybe you wish he folded his socks or that he would talk to your friends without prompting. But his inability to do so may stem from the laid-back personality that drew you to him in the first place. "One of the things we see with happy couples is that they know their partner's differences, and have pretty much stopped trying to change the other person," says Darren Wilk, a certified Gottman Couples Therapist in Vancouver, British Columbia. "Rather than trying to fight their partner's personality style, they instead focus on each other's strengths."
16. SPEND TIME ALONE.
It's hard to give love to others when you haven't had much time for yourself. Take a personal day to relax, get a mani, or spend some time just thinking about you. It's not selfish, it's self-care.
17.REDO YOUR BEDROOM.
Where you sleep should be an oasis for two things: sleep and sex. But it's hard to be in the mood when there's a dog bed in the middle of the floor and shoes scattered across the floor. Take the time to reorganize your space to give it a little more sex appeal.
18. WEAR SOMETHING OF HIS.
"Many women say they get turned on by the smell of their guy's neck," Kerner says. So throw on his collared button-up. You'll be surprised how much he likes the look too.
19. TALK A WALK AND TALK.
Bust out your FitBit and get in steps – and quality time with your partner. It could seriously pay off. "Take at least one weekly walk together – even for just 30 minutes – to catch up on what's going on in your lives and share any news on family, social plans, etc.," says Greer. "Talk about what you're looking forward to and walk away life's stress with your partner."
20. TALK ABOUT YOUR FANTASIES.
Even though it might be scary at first. "By opening up with each other, you're building intimacy and proving your mutual trust," Kerner says. And the next time you're flying 10,000 feet in the sky, you'll know exactly what to do to pass the time. Don't be afraid to be someone else for the night either – role playing will allow you to both escape from your to-do lists and just have fun with each other.
21. TAKE A TRIP DOWN MEMORY LANE.
"Happy couples tend to rewrite history by glossing over the bad stuff and focusing on the happy times," says Wilk. By reliving memories out loud to your partner, it actually changes your mindset, and how you view him and think about your relationship. Try this exercise whenever you feel your relationship needs a boost: Go over the highlights of when you were first dating, or rehearse the best moments of your relationship to uncover buried memories.
22. VOCALIZE YOUR APPRECIATION.
Giving your partner positive reinforcement sounds like a no-brainer, but couples often forget to do it. "Relationship expert Jon Gottman found in his research that in everyday life, happy couples have 20 positive moments – a shared look, compliment, or affectionate touch, for example – to every negative moment," says Wilk. Tell him something positive three times a day, and be specific. Instead of saying, "You're a good dad," tell him why. "You're a good dad because you helped our daughter with that puzzle, which I never would have had the patience to do."
23. DO LITTLE FAVORS.
Happy couples are mindful of those little moves their partners do for attention. When Gottman's team studied 120 newlyweds in his Love Lab, they discovered that couples who stayed married six years later were paying attention to these bids for connection 86% of the time, compared to only 33% of the time for those who later divorced. So look out for the little things, and respond to his need to connect. Like if you're grocery shopping and he casually mentions that he hasn't had Fruit Loops since he was a kid, throw them in the cart for him to show that you care.
24. CREATE NEW RITUALS.
"It's not only about having a date night, but happy couples seem to do a lot of mundane things together," says Wilk. "They have little habits that they decide to do together, whether it be sitting down to pay the bills once a month or folding laundry." We say, anything to make that pile of dirty clothes feel more manageable.
25. CONFIDE IN ONE ANOTHER.
One crucial secret to a happy marriage? Don't have secrets. "It's a major problem to keep secrets, whether it be about money, parenting decisions, emotional withholding, or anything you keep from your spouse because you're afraid of their reaction. It keeps you from developing the trust or intimacy of a good marriage," says Mindy Utay, psychotherapist and marriage counselor. The fix? Simply being open and honest with your partner. "Take responsibility for your feelings and actions and ask for understanding from your spouse. Secrets are childish ways of avoiding conflict."
NEVER SKIP DATE NIGHT.
Sure, hanging out and watching Netflix is fun. Know what's even more fun? Experiencing something new together … away from the couch. "Making it a point to have a weekly date night gives you both time to reconnect, have fun, and focus on each other," says Sarah Mandel, R.N., a psychotherapist and Imago Relationship Therapist. "The importance of making time for your marriage is the gift of connection and intimacy."
Previous Post
You're at brunch with a bunch of friends, and one jokes she hasn't gotten any action since Obama was in office. Cue: ... Read more